If you are aware of SEO, you must be knowing that there are a lots of new tools out in the market. Actually there are hundreds which makes most of the SEOs confused about the best among them. And I'm sure you too must be thinking how to choose the best tool which could prove more effective and helpful for your SEO plans. In this article I'll help you to find out some of the top tools among all.
Search engine optimization tools are very important for tracking and analyzing your website because this is how you can increase your online presence. Increase in online presence means high visibility and more traffic to your site. These tools lets you look at your website in a manner that Google recognizes it. Apart from saving you an extra time a good tool can make amazing difference to return on investment (ROI).
Thus, choosing right tools save your valuable resources and leads maximum profit to your business. But then again before choosing a tool, you must remember your requirements in SEO marketing. You'll find different tools for different objectives, and certain tools that try to combine all possible SEO strategy. Below are the list of top 20 tools that I have discovered which may prove beneficial for an SEO Outsourcing Company.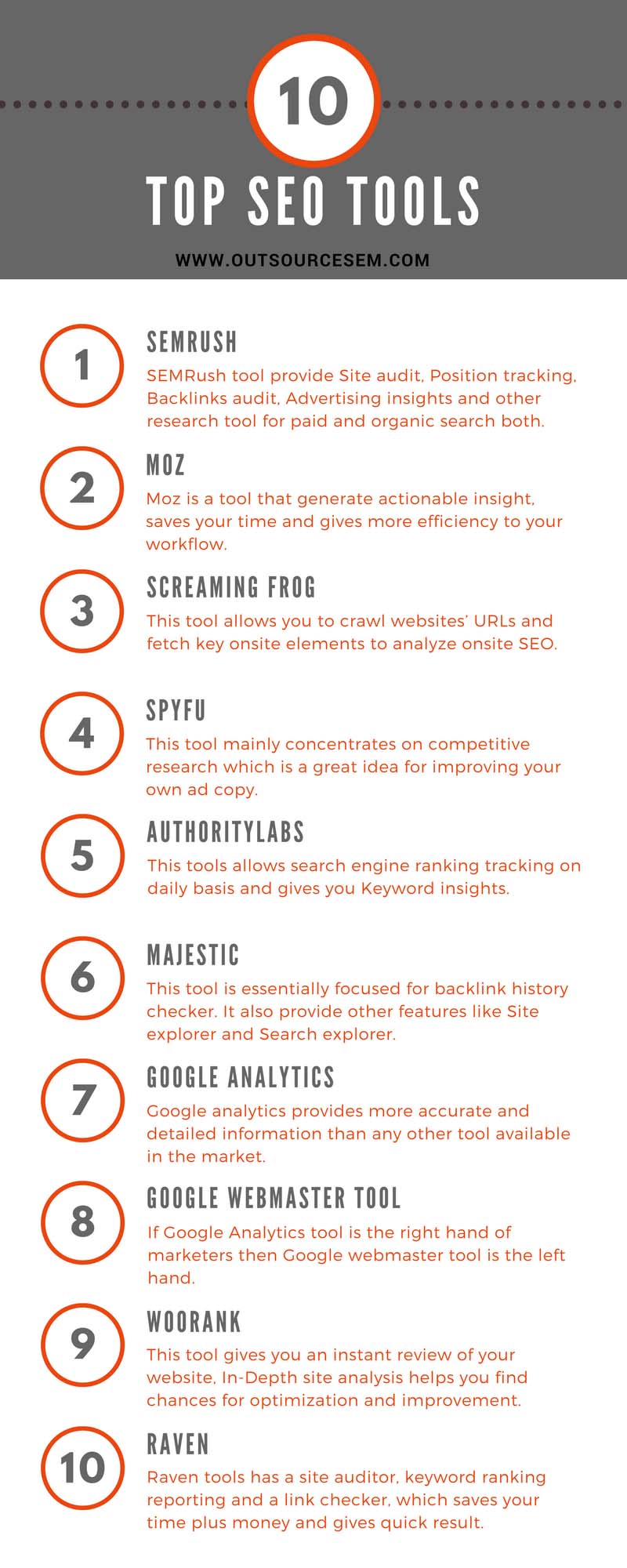 SEMRush – SEMRush tool provide Site audit, Position tracking, Backlinks audit, Advertising insights and other research tool for paid and organic search both. Site audit shows overall website health and what issues needs to be addressed. Best feature of SEMRush is that it provides SEO ideas for competitor's research which helps you compare with your competitors and improve optimization of your website. It also offers social media tool which lets you track social audience, activity and engagement of you and your competitors in Facebook, Twitter, Google+, Instagram and YouTube.
Moz – Moz is a tool that generate actionable insight, saves your time and gives more efficiency to your workflow. Open Site Explorer (for free) lets you find your website's Domain authority, Page authority, Spam score, Analyze your Anchor text and Measure your Backlinks.
For more you can buy different plans which offer additional features like Keyword rankings with competition, Keyword research, Site crawl, Page optimization etc. Also you can compare with your competitors ranking performance. Basically it is a complete set of SEO tools.
Screaming Frog – This tool allows you to crawl websites' URLs and fetch key onsite elements to analyze onsite SEO. It provides common features like Broken links, Audit redirects, Analyze Page titles & Meta data, Discover duplicate content, Extract data with XPath, Review robots & redirects, Generate XML sitemaps, Integrate with Google analytics.
It delivers quick result without taking much time, so that SEOs can take conversant decision. You can either download it for free, or purchase a license for additional advanced features.
SpyFu – This tool mainly concentrates on competitive research which is a great idea for improving your own ad copy. It actually finds out the most profitable keywords of your competitors for both paid and organic search and lets you know what ads they are running and which keywords they are ranking for. It also offers keyword tracking.
AuthorityLabs – This tools allows search engine ranking tracking on daily basis and gives you Keyword insights. It offers local results feature which track search results at the city or postal code level for the most accurate and granular reporting available. One of its unique feature is "Global tracking" in this you can easily add domains or pages to be tracked from any country and language offered by Google, Yahoo! and Bing. Other features include Backlink checker, Website crawler, Competitor tracking and mobile tracking.
Majestic – This tool is essentially focused for backlink history checker. It also provide other features like Site explorer and Search explorer. You can explore any site in detail by just adding a domain/url. Majestic's trademark and most impressive feature, Trust Flow and Citation Flow scores. Trust Flow is a score based on quality, on a scale between 0-100. Sites closely linked to a trusted seed site can see higher scores, whereas sites that may have some questionable links would see a much lower score. Citation Flow is a score between 0-100 which helps to measure the link equity or "power" the website or link carries. Citation flow is used in conjunction with "Trust Flow". Together the Citation Flow and Trust Flow form the Majestic Flow Metrics algorithm.
GoogleAnalytics – It is one of the most important tool for marketers. If you are not using it up till now, do so as soon as possible because Google analytics provides more accurate and detailed information than any other tool available in the market. This tool not only helps you know the visitors and how they interacted with your site but lot of other data that you can apply to your seo campaign.
You can refer this article "How to use Google Analytics" to understand how to work with Google Analytics tool for more relevant traffic to your site.
Google Webmaster Tool – If Google Analytics tool is the right hand of marketers then Google webmaster tool is the left hand. It provides almost the same data as of Google Analytics but in simpler way. The main difference between these two tools is that while Google webmaster tool reports on how Google search engine interacts with your site, Google analytics reports on how users interact with your site.
Google's Fetch as Google tool allows you to look at your particular URL as Google sees it, which is the best way to find how Google is recognizing your website.
It very important to improve your page speed in order to hold on your visitors, who have very less patience. PageSpeed Insights is a feature provided by Google Webmaster Tool, which lets you measure the loading speed of your site for both desktop and mobile.
Woorank – This tool gives you an instant review of your website, In-Depth site analysis helps you find chances for optimization and improvement. You can download the review result in PDFs. Also woorank finds the error and suggest how it can be removed. Social shareability and mobile optimization are other useful section, which I consider is an important factor for online marketing.
Raven – This tool basically focus on their marketing reports. Raven Tools has a site auditor, keyword ranking reporting and a link checker, which saves your time plus money and gives quick result. You can also create a comprehensive report for your client using drag and drop reporting. And therefore it could be a good option for those who represent a lot of clients.
Serpbook – This tool has similar methodology to that of Authority Labs, it offers rank tracking and SEO competition. Also spontaneously updates PageRank, Backlinks and Alexa ranks daily. You can download the report in PDF and CSV file that can be easily shared with your clients, it can either be scheduled as email report for different email address as frequent as you want. Most importantly Serpbook allows you to integrate Google analytics data.
SEOWorkers Analysis tool – You can analyze and measure the ranking potential of any web page with this tool. Apart from analyzing the Meta Tags of your pages, it uses the same spider technology as the search engine spiders themselves.
Firefox SEO extension is additional feature which allows you to test your pages. Also, there are some of the data that you wouldn't consider to check:
Check My Links – This tool is mainly designed to check each of the links on your web page whether it could be internal or external. It thus finds the broken link, where good links are highlighted with green and broken links highlighted with red color. It makes easy for you to find invalid links even if a web page has lots of links.
SEO Report Card – This tools lets you analyze your site versus your competitor's site ranking. It generates a report card which consists of the following covers:
• Rank Analysis • Link Building • On-Site Analysis • Website Accessibility • Trust Metrics • Current Indexing
HubSpot's Website Grader – This tool generates a customized report and helps you to find search optimization opportunities. Simply add your website's URL and an email address, then you'll be able to identify your Website Performance, Mobile Readiness, SEO and Security. At the end, it recommends you the required changes for your site.
Google Keyword Planner – This tool provides you good information about current popular keywords that can be further filtered according to your requirements. You should take a look at this tool because most of your traffic is probable to come from Google searches. Also you can see historical view of keywords through Google keyword planner to know its position and search volumes.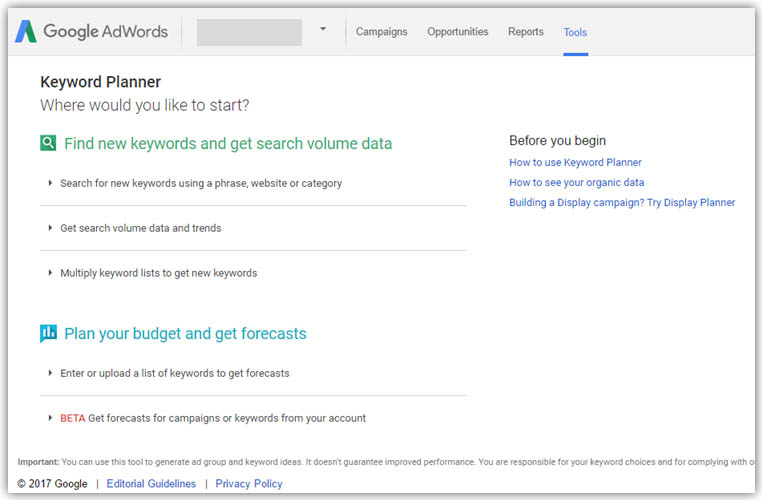 Ahrefs – This tool offers a number of features which is most suitable for SEO and social media. Furthermore, SERP overlay lets you know how strong are the pages that rank for a keyword that you're searching for. Also the metrics they give you are pretty accurate.
• URL Rating • Domain Rating • Ahrefs Rank • Backlinks • Referring Page • Referring Domains • Referring Content • Anchor • Sitewide / Not Sitewide • Fresh index / Live index • Top Pages
Remove'em – Everyone knows bad links are harmful for your website and therefore it is necessary to remove them as soon as they are discovered. Remove'em is a tool that focus on backlinks, scans your website and find the bad links that should be removed. You can easily monitor your backlink profile using this tool. Apart from this, you can export the details of broken/bad links if you want to deny them using Google's tool.
CognitiveSEO – Basically this tool helps you to increase traffic to your website. Backlink Analysis, Content Audit and Rank Tracking are the features offered by this tool. You can actively analyze and track yours as well as your competitor's website to identify digital marketing strategies. It also helps you recognize bad links coming from other websites.
Found's SEO Audit tool – This tool is easy to use and gives quick SEO audit results of your website. Just enter the url and you'll get all the errors and solutions. You can download the results as a PDF to share.
Get Started
Reading this article you must have understood, what are the tools and what can you get out of them. As an SEO comapny, there is a lot you can do with these tools to optimize your website more and more. Therefore, try to do whatever it is possible with these tools.
Lastly, I would recommend to use a paid subscription, because it is not possible to do detailed and complete SEO work with free tools. It does not provide certain feature in free.