outsource ppc services
We bring sparkles to your marketing
Your online presence would shimmer and shine
Schedule a call
Contact us
Private Label PPC Management
White Label PPC - Outsource PPC - PPC Reseller
Search engine marketing not only gets you the relevant traffic for your business but also lets you know who your prospective customers are, helps you retarget past visitors, reach customers at specific locations, promoting your business across the world. Anyone can get traffic to your website, but doing it effectively and efficiently is important. Outsource SEM can help you achieve your goals in a hassle free manner. We provide complete reseller white label services to PPC agencies worldwide.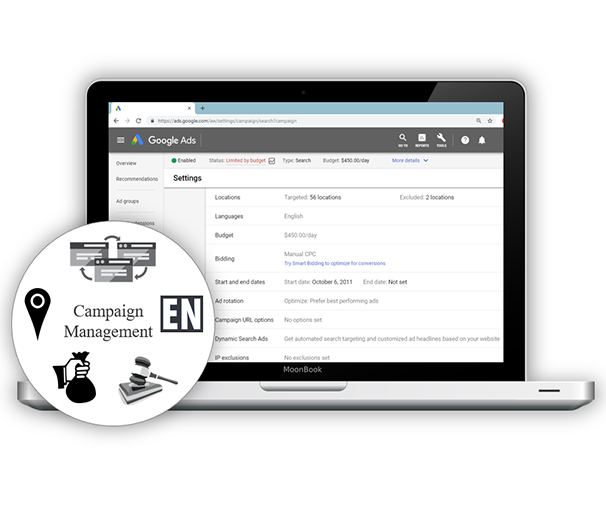 Reach Targeted Audience
The PPC campaigns are customized according to the geographic location and demography. The audience to which the Ads are to be targeted can be easily achieved through it. There is also an option to expand your reach as desired. It helps to get better sales and leads.
Revenue Generation
Getting work done at a rapid pace with proper quality helps you to generate good amount of revenue. Completion of work on time will help you to maintain your customers which in turn helps to increase your brand value.
Immediate Results
Users are increasing day by day on the internet. So, your Ads reaches the audience quickly and results are achieved at a rapid pace. Whether you are launching a new product or doing re-marketing. PPC campaigns give instant gratification.
Outsource PPC Approach and Strategies
I want your experts in my team!
What we do that makes us different with our White Label PPC Reseller Services
Market Research & Competitive Analysis
We do extensive market research to understand the current market landscape. This is mostly in terms of demographic demands and keywords' traffic. Further to check that the current services and methods adopted on the audited website are relevant or not. We also do comprehensive competitive analysis using different methods through high end analysis tools. We try to understand and differentiate your competitors marketing strategies, their paid marketing spends, traffic share, etc. This gives an insight idea about competitors' and helps us to be one step ahead. Competitive analysis is done in detail and multiple competitors are considered for analysis.
PPC Campaign Analysis
Auditing of the current PPC campaigns to understand what's going wrong and how to improve them is a major part of our working pattern. This is very time consuming as most of the work is manually done. Every aspect of the campaign setup is critically considered, from keywords' relevancy to Ad copies. Moreover, evaluation of landing page, bidding, campaign strategies, remarketing audience list, defining conversion and code implementation is covered. We look for issues that are critical to campaign performance. Focusing on current traffic based on demographic & geographic locations, helps in figuring out the components that forms a part of competition analysis.
Go to Market Strategy
We provide GTM strategy to our clients who are unfamiliar with PPC and are planning to venture into new business or start-ups. We also help companies in testing new ideas, products and services and provide a customized plan/blueprint that can be followed for better results. It has all the great ideas & channels that you can look for likewise campaign budgets, cost estimation, extensive market research, current competitive landscape, keyword research and traffic estimation. Strategies from shopping ads to remarketing - everything forms part of the report. Just to mention all this is done keeping in mind the different paid channels - Google Ads, Bing, Facebook, LinkedIn etc.
A Google AdWords™ Premier Partner
We have a team of Google certified professionals who are always ready to help clients in managing digital marketing campaigns smoothly. Our experts will support you in the following services so that you can handle your clients easily.

100% White Label PPC
Our PPC reseller services are 100% white label, as you will be directly handling clients, talking to them while our PPC experts will be taking care of all the operational part. We will be creating work templates specific to your requirements. The reporting dashboards, analysis deck will all be customized to your branding needs.

Process Based Management
We are a process based company and all our work is driven in a very structured manner. Through our project management tool all the work completed, in-process and pending can easily be checked for updates. All documents, decks, reporting dashboards are available for review anytime.
Certified Search Specialists
We have a team of certified PPC experts, who understand search marketing like back of their hand. They are proficient in different functionalities of PPC - Search and Display ads. They work with different teams in tandem to make sure that all requirements related to design, coding etc. are taken care of hassle free.
Digital marketing agency
Get In Touch