Scale your online presence with Outsource SEM
the white label SEO and PPC reseller services
Division of Megistron Media
Outsource PPC & SEO Benefits
In today's world, geographical boundaries have lost their significance, the world has become a global village. In this new era, to remain competitive you need to provide better solution at affordable cost. Hence, outsourcing has become pertinent.
• You get certified experts at fractional cost
• You will avail advantages of partnering with certified agency
• Effective team that can manage both Search engine marketing and optimization (SEO, SEM/PPC) campaigns
• Proactive in approach and prompt response in communication
• Quality in service and meeting deadlines
• We enable you to reduce cost and reinvest in growth
• A long term relationship – Partners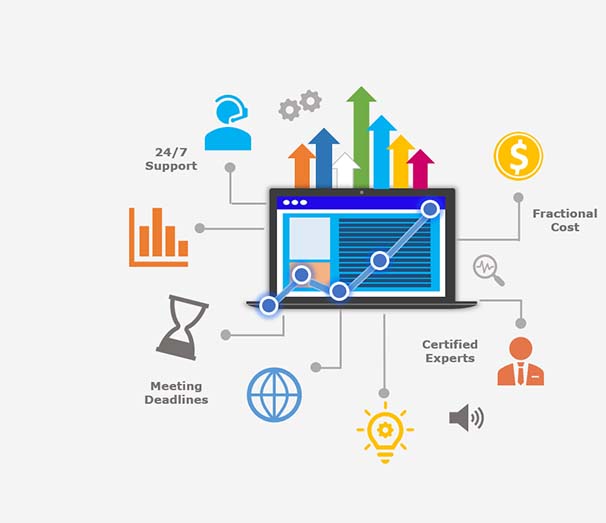 How to choose a good white label service provider?
About Outsource SEM
Outsource SEM is a part of Megistron Media's white label reseller initiative. Megistron Media is one of the leading digital outsourcing partner. which is into inbound marketing consulting. We have a team of certified search experts who work for clients across the globe. We have reseller programs for all kinds of client requirements, who are looking for experts in SEM/PPC, SEO, Web Analytics, Website Design & Development, and Social Media Marketing/ Optimization.
The most prominent part of our service is that we never speak with our reseller partner's clients directly; our SEO and PPC reseller services are secure. We sign NDA furthermore that we do not accept individual Clients and accounts on board; we ensure we are not your competitors. Our low cost services are made for agencies like big SEO and PPC Company.
White Label PPC Services
We provide 100% white label PPC services and are Google premier partners. The experts here have a good amount of experience in handling PPC campaigns. We keep a constant check on the performance of campaign through daily, weekly and monthly analysis reports. The ad copies created by us are attractive and relevant to the subject. Landing pages are made pertinent to the ads. The keyword research is done keeping in mind the website and contents related to it. By outsourcing to us, you can keep all your ad campaigns worries aside. We will make sure that campaigns run effectively.
White Label SEO Services
Our competitive investigation and research will take your website at top of the rankings and help it gain better traffic. The SEO services are white label. An extensive keyword research is done using various SEO tools. After research, the effective keywords are identified and mapped upon relevancy. We get relevant backlinks by applying proper techniques. Also, the strategies formulated by us can help in making your website better in terms of structure and content. Getting displayed on top of the SERP is a lengthy process. By outsourcing to us, you can achieve better results in a short period of time.
Revenue Report
For any ad campaign, revenue generation is essential. The reports related to revenue are given here. It helps to keep a track of clicks, impressions, CTR and the revenue gained respectively. The data is evaluated on weekly and monthly basis. It will guide you in taking necessary decisions for the upcoming ad campaigns. You can implement the required changes to make your ads work better.
Weekly and Monthly Report
The reports are made for weeks and months with respect to present and last year. The data is represented here with separate colors that helps in doing comparison of components in ad campaigns. It also provides an overall and proper analysis of the ad campaign. A regular check on the progress of ad campaigns is necessary as the budget can be adjusted accordingly.
Device Segmentation
The reports also contains analysis with respect to devices. It is divided into various types such as desktop, mobile and tablet. You can easily get to know about the users who were on the website and which content interested them. The content can then be changed and adjusted in order to make it compatible for that device. This helps to gain a better audience reach and know the consumer's interest.
Why PPC & SEO Outsourcing
Economically Beneficial

Domain Expertise

Performance Based

Scalability
Our White Label SEO & PPC Reseller Services are Economically Beneficial

The baseline of all business is profitability so you need to see the fixed and variable cost while doing it in-house rather than outsourcing. As hiring employees is usually very expensive and in today's competitive environment cutting cost in regards to resources and redundant processes would finally define how successful you are! So, keeping this in context it needs to be seen how beneficial is having an in-house operations team for your company? We all understand some work is cheaper to outsource than to do in-house. Today if you Outsource SEO and PPC projects the cost may considerably be lower than what you may incur doing it in-house. What we provide is low price affordable Private label PPC and SEO reseller services.


Now the obvious question how we can offer such low prices? Being part of the developing world the cost of services and products are considerably lower in US. This is a well-known fact nothing new about it. The low cost of resources gives us an opportunity to provide cost effective outsourcing SEO and PPC solutions to our partners. Though this may not be universally true in regards to other companies in US. We take great care in recruitment & training of our team. The team consists of specialists with relevant experience in their designated domain. We have customized packages for all kinds of client requirements and the competitive cost is specifically meant for agency partners rather than individual customers.

Years of Experience in Providing White Label PPC & SEO Solutions

We have years of experience in providing private label SEO and PPC solutions to our partners. One of the important reasons for us being a reliable partner is that we are the domain experts. We keep up with the best practices which requires time and dedication including participating in training, forums and updating us through different online journals, blogs on regular basis. We have managed more than 500+ projects and have 100+ satisfied clients. We provide full SEO and PPC campaign management once you hand over the project, from set-up to reporting it is all our responsibility. Our performance speaks for our client retention which has also lead to our recognition as AdWords™ premier partner.


Our optimization methods are based on manual execution which includes keyword research, ad-creation, off-page submissions, on-page changes and reporting. Having said that we also make extensive use of high end paid tools to analyze the client's website, competitors and our existing campaigns. This gives us an understanding as to what competitors are working on, their online marketing strategy (SEO and PPC) and issues pertaining our own campaign. There are things that should be done manually and things that can be automated, we make use of both respectively. All our specialists are certified professionals who specialize in their respective domains.

Performance Based White Label PPC & SEO Reseller Program

We provide small duration as well as long duration PPC and SEO contracts, we usually work on month to month basis. There are no obligations that should worry you. While starting the contract, we work out a plan, we discuss the KPI's for the campaign and the road map/course of action for the project duration. Our SEO and PPC project targets are set initially and evaluated periodically based on ROI, conversion, traffic etc.


We make sure that the set targets are achieved in the stipulated duration or we work for free until it is. We also offer refund if the client requests (but it has never come to that extent). The way we work is to understand the SEO and PPC campaign scope, research for relevant keywords, plan a detailed strategy, do a gap analysis, generating content/creatives, execution and then optimizing.

Our White Label SEO & PPC Partners Program are Scalable

If you have an in-house PPC and SEO team then scalability is always an issue, let me tell you why. You won't hire an employee until you are certain that you have sufficient work for him related to his expertise. Also, you need to keep in mind that in near future there will be a continues flow of work for him. This is a big constrain for a small and mid-sized companies because you cannot hire a specialist if you have one or two related project. The reason would be obvious it may end up being a costly deal overall.


Well this is not the case in outsourcing SEO and PPC reseller services, you can push as many projects as possible to us. Capacity building, hiring and maintaining employees is our headache and if you think this may affect quality then hold on, before starting any campaign as mentioned earlier we mutually agree on certain set goals for each project. The beauty of our project model is that we take all the responsibility in regards to performance while you just coordinate with the client.
Why choose Outsource SEM?
We provide digital marketing services. Our aim is to provide customer satisfaction by improving ROAS through our result driven approach. The Google certified experts follow tried and tested methods which helps to achieve high quality of work.