Search Engine Optimization (SEO) Outsourcing Services
White Label SEO Company - Outsource SEO - SEO Reseller
Outsource SEM helps companies expand their business and get better recognition across the globe. We offer proven tactics that guarantees improvement in your website traffic and ROI. We strive to boost your website's online presence and work towards improving your website ranking on prominent search engines. We offer high levels of expertise & proficiency so that your website is placed right on top for the keywords that are relevant to your trade.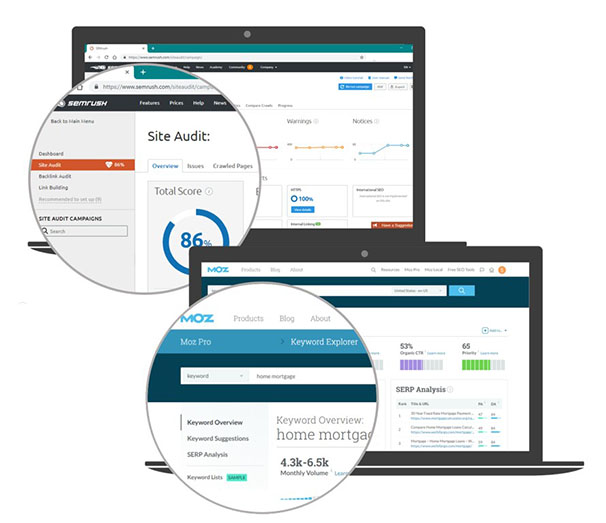 Better Ranking
The idea behind better ranking through SEO audit is totally dependable on machine learning and algorithm. Proper optimizing techniques help you to achieve top ranks on SERPs. You need to provide user friendly experience to better the brand value.
Improved ROI
SEO is made to improve web page layout and faster loading of internet pages. A quality content with maximum number of viewers will get you higher ROI value. Good ROI can be achievable through higher conversion rate which is possible through SEO effort.
Increase in Web Traffic
No doubt, SEO will boost your site traffic far better than earlier it was. Web Analytics and similar tools will help you in enhancing traffic more often. Traffic rise will not be sudden but it will show gradual changes in positive way.
Outsource SEO Approach and Strategies
SEO Methodology
SEO Audit

Strategy Formulation

Site Optimization

Analysis & Refinement
SEO Audit

SEO Audit helps us understand that is your website fit from technical as well as competitive perspective or not. It tells us about the problems with the website like structural issues, duplicate content, issues with meta tags, broken links, page speed, page size, overall to measure the website on the parameters of search engine friendliness. Is the website optimized for the relevant products/services or not? Identifying how competitors have optimized their website to target similar audience. It is a method to identify the issues/problem areas and how to deal with them/resolving them. To identify areas of improvement for on-page and off-page, like to check all the incoming links are of good quality, the backlink sites have a good domain


authority and are not considered spam. What are the anchors used for the backlinks? are these anchors relevant? what is the ratio of the links received that have no-follow? What are the TLD's of these links? We also try to analyze the backlinks received by your competitors. Do an extensive research to understand the industry and the related products? What are people looking for, suggestions regarding your keyword research? What is the keyword density of your top competitors all form part of SEO Audit? It is basically a gap analysis to help build up optimization strategy over it. SEO Audit highlights the issues pertaining to the websites which is followed by recommendation and best practices.

SEO Strategy formulation is a process which comes after technical audit and competition analysis. It is based on the recommendations as an outcome of the SEO audit. What kind of products/services are crucial for the segment, which one of them has more traction, are some of the important things that are dealt with? This process also covers the way ahead or a road map on website structural changes, content changes like should we create a blog or a knowledge center etc. What kind of keywords need to be targeted and optimized?


How these keywords related informative content can get exposure to reach the target audience. What will be the number of articles per month and press release submissions? Is the site under penalty and how to get it removed? What are the issues detected with the backlinks, if they are coming from spam sites then they should be disavowed or not? What would be the best method to generate relevant backlinks for the website and from where (blogs/articles) etc.? Are some of the things that are planned during this stage.

Website optimization is a process that takes intensive manual efforts to get a website ranked. All that has been recommended during the SEO audit and the strategy that has been formed/suggested are executed during this stage of the process. All the different work requirements are integrated at this stage like, new web page creation, content creation for the website, new section for products and services.

Design and development related work that may have been recommended are worked upon which may be related to architectural changes on the website. Use of call to action in the content of the website for lead generation and sales. Backlink creation including content syndicated backlinks, general and local directory submission, paid submissions and listings etc. are some of the things taken care of.

Analysis and refinement are crucial to the SEO process as at this stage we understand what kind of optimization has worked and what has not. Where are more efforts required and how the SEO objectives/goals could be achieved? Analysis includes two things periodic audit and reporting, which helps in highlighting the gaps that are still present in the website's SEO targets after the optimization. Periodic audits are of similar in nature as general SEO audits but deals more on the comparison part from past to current. It helps us understand what are the changes that have been completed on the website? Is there anything which might have been missed or still left?

What are the websites that have given the backlinks were submissions were done. How many articles got published and PR got released. What structural changes had been recommended and have they been completed or at what stage of development. A similar understanding is gathered through reporting, which gives us an input in regards to what are the changes in the traffic, which pages have started to get more ranks, what is the keyword rank status and all of this is done in comparison chart sheet, which is month on month. Usually analytics data is also included in such reports to show traffic from geographic region, sources of the traffic, referrals etc. and if required amendments in optimization are done accordingly.
Outsourcing SEO
SEO for Small Businesses
SEO has huge impact on small businesses as well. In present scenario, businesses with low capital do prefer to have a website. Small businesses with website sees more growth than businesses without any website. And, website needs to be user friendly to attract more customers. Practising SEO will help you in achieving better ranking which in turn creates brand awareness and trust. Hence, Conversion rates will also drastically increase and it will generate good amount of capital for your business.
Tell me more
Outsourcing SEO
SEO for Large Enterprises
SEO tends to offer huge benefits and expanding ability to large enterprises. It can be used for many purposes likewise making businesses cost effective, generating revenue, maintaining brand trust and loyalty. Optimizing web pages can show good impact on CPC. A small variation can lead to revenue generation in millions. Proper SEO strategy and techniques will drive more visitors towards your business. Further, SEO data can help in creating better strategy with effective results.
Tell me more
Services we provide as
SEO Reseller

Digital marketing agency
Get In Touch