It is imperative to find a good SEO company for the success of an SEO project. The problem is if you are not careful, the SEO done on the website can do more harm than good. We will try to understand the mistakes that should be avoided and how we should evaluate an SEO company.
There are two methods of evaluating an SEO Outsourcing Company, one is a wrong method and other is a right method. Usually everyone likes to hear sweet talk which the sales person does but there is not much thought that goes behind in understanding the deal. Usually the parameter for selection is very narrow and I mean very narrow:
• Low cost, the lower the better • Guaranteed results, will get you in the top 3 results kind of deals • Quick results, lighting results - top ranks 2-3 months' kind of deals
The problem with the above is, it's not gonna happen dude. This is unrealistic and we need to be clear about some basics as to how SEO works. One of which is for sure, SEO is not meant for the impatience lot, and it takes time and consistent efforts. Below we will discuss more elaborately, how are things judged wrong and how it should be considered correctly.
Wrong Method:
Guaranteed Rankings – There are many SEO companies that offer guaranteed rankings, top rankings for the most competitive terms and for sure which never ever happens. Then the obvious question "but why people fall for them?" Considering most people don't know how SEO works want the "best deal". No one can guarantee rankings and if someone does, that could just be a scam. So then what can be guaranteed? Positive traction on the website, ranking improvements on SERP, Site hygiene, Domain authority buildup and page authority over a period.
Guaranteed Quick Results – Another one from the guaranteed deals, usually such deals are like: top rankings in 2-3 months, you say the word and we will rank it in 3 months' kind of pitch etc. Again, that's not gonna happen bro, SEO takes time and I mean it takes time, so if you change a title tag it may take a month to show some results based on the changes. So, better keep away from such companies.
Cheaper the Better - People tend to go after cheaper deals, what they don't know is these deals usually end up being more expensive. Let me tell you how – usually there are couple of things common with such companies which I have mentioned below:
• They generally have inexperienced resource – as experienced professionals cost money which obviously, they can't afford with such low-cost service. • Tend to go for quick fixes – few changes here and there. • Use of automated tools for off-page submissions/link generation – this is very common practice which helps them generate thousands of links overnight. But they are worthless spammy links. • Even use of black hat techniques – use of cloaking, door way pages etc. content filled with keywords and other spamming techniques.
This ends up having a negative impact on the website and even leads to penalty from Google. Once penalized it takes months even years to get rid of it. Which proves the first point that this kind of deal usually ends up being more expensive.
Unrealistic expectations – All the above would be considered part of unrealistic expectation. The approach needs to be more rational and pragmatic by keeping in mind the limitations of SEO.
High pricing will not guarantee results – Often people think that if a company charges premium then they would also be providing good quality services, my answer to that would be "nah, not necessarily". Usually companies that provide good quality service do tend to charge more but the same is not true other way around.
Video and other Testimonials – There are several testimonials that you will find on the SEO company websites. They all may not be true, judging their services based on these testimonials would not be considered wise.
Trusting the evaluating websites – You can find many websites that rank SEO companies based on their performance, top SEO company of the quarter, year etc. It's good business to rank websites, it's usually paid to get ranks and not mostly based on performance. It's pretty much superficial so better keep away from these websites.
Secret recipe for success – A few people get persuaded by a pitch which makes them understand that there is some secret method through which the SEO company can get the website ranked. My answer to that is no there isn't anything as secret recipe, it's just a sales pitch and let's keep it to that.
Going for promotional offers – If you sign up this month we have an offer going on which is 50% off on our current pricing or get your website submitted in 1000 directories for just $25! Right, they sound amazing but usually can end in an awful experience.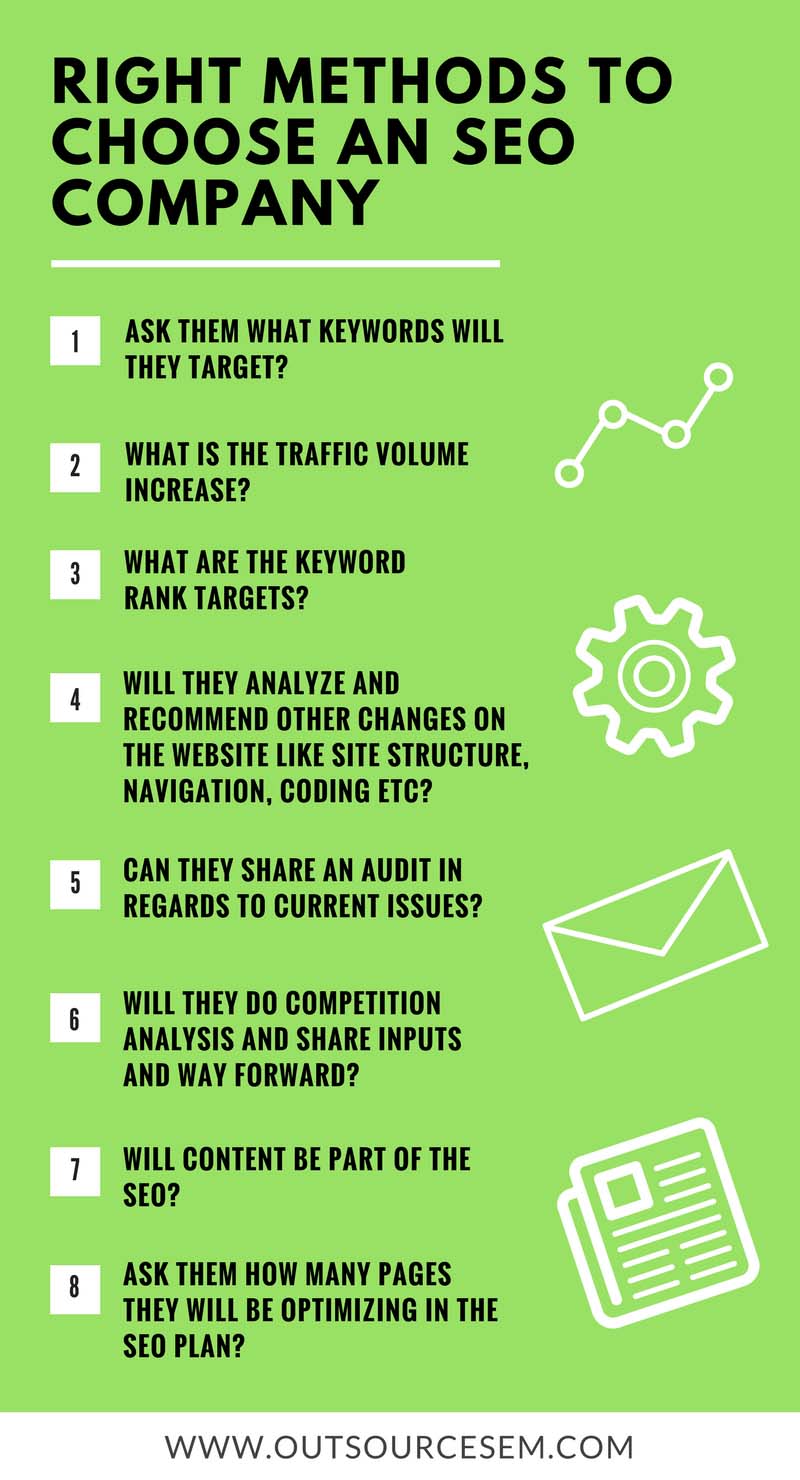 Right Method:
Ask them what keywords will they target? You should check with the company what are the keywords that they plan to target. How they will do the keyword research and from where they will get the keyword data on traffic and competition? What would be the % of generic to long tail terms? What is the competition on these terms? Generally, the more the competition the more important the terms would be and hence difficult to optimize. As keyword research is the first step towards site optimization.
What is the traffic volume increase? While trying to figure out what are the things that we should set as goals. Please check with the company as to what % increase in the traffic they see as the outcome of their SEO efforts. This is considered one of the important goals which must be discussed and set initially.
What are the keyword rank targets? The other point that needs to be kept in mind is in regards to the keyword rankings. Where do they see, keywords rank in the next 6 month? This again would be considered a goal which must be set initially. It will be wise to know that the more competition a keyword has the more difficult it is to make them rank.
Will they analyze and recommend other changes on the website like site structure, navigation, coding etc.? Apart from doing basic checks will they do a thorough analysis of the website and recommend structural changes, coding changes if any? This is very important as no matter how well you do the SEO if there are some basic issues with the website then it won't rank, period.
Can they share an audit in regards to current issues? Ask them if they will share an SEO audit of the website, that's important. This will help you see the issues also get it checked by someone who knows SEO to understand, are these guys on the right track or not?
Will they do competition analysis and share inputs and way forward? Generally, it's a rule that companies need to analyze the competitors. It gives an idea of the domain landscape, optimization methods used by the competitors. It helps you understand what competition around you is doing and being successful to rank.
Will content be part of the SEO? A very crucial part of SEO is content, so check with the company will this be part of the plan if yes then how many? If no, then how will this be done. Usually new content pages are suggested by the SEO company and there are changes required to the current web pages to optimize them for the search engines. Content is king and it is important that there is good quality unique content on the website. After all it's the content which will help you rank on the SERP.
Ask them how many pages they will be optimizing in the SEO plan? A very crucial question would be to check with the SEO company, how many pages will they optimize. You might have 100 pages on the website – will they optimize all of them? For a good optimization, they should take care of the hygiene factor for all the pages. This is where efforts come into picture which will have a long term positive effect.
Resources to refer:
Moz - How to Choose a Good SEO Company for Your Business or Website