Google Webmaster Tools is a free of cost service that helps you maintain and evaluate performance of the website. It is now also known as Google Search Console. This tool acts as a gateway in a two-way communication with Google. It can check the indexing status and optimize visibility of the website. It also gives insights about meta data and page errors. A good SEO strategy can be made by using this tool.
The steps required for using Google Webmaster Tools are given below:
1. Go to Google Search Console and sign in to your Google account.
2. Type the name of your website in the section given and click on 'Add a Property'.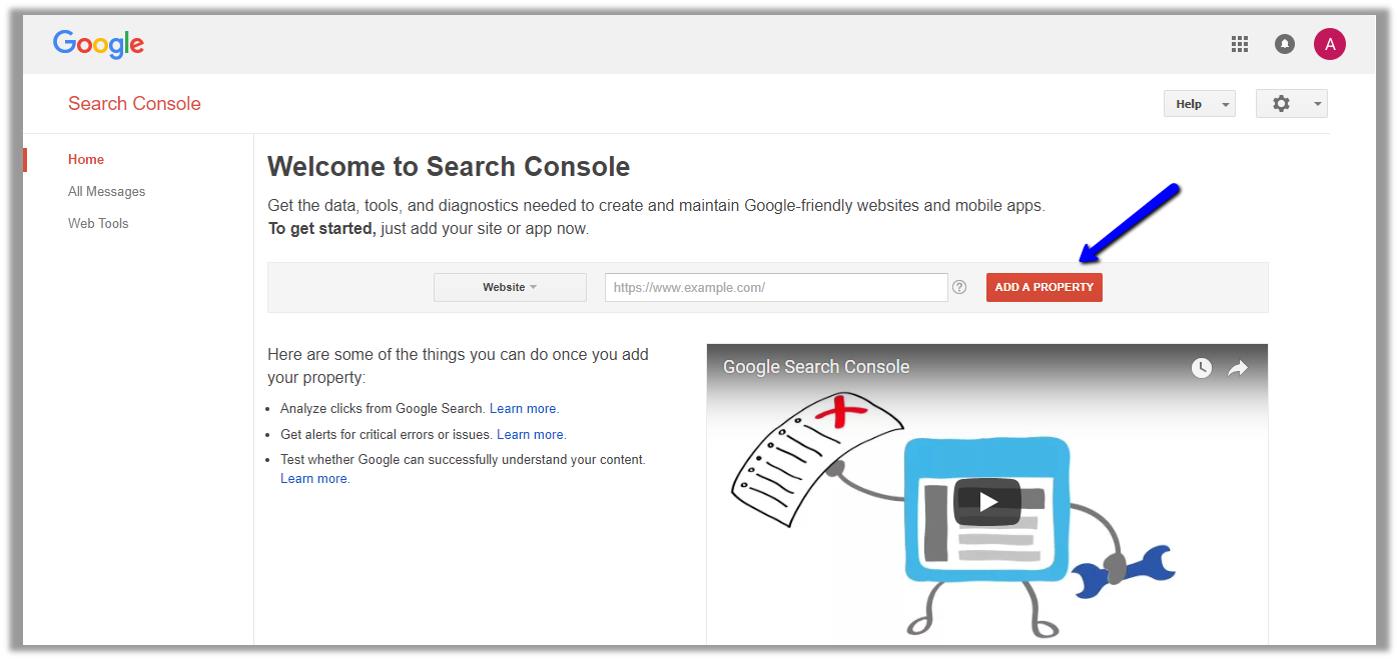 3. Click on 'Alternate Methods' Tab and copy the HTML tag given there.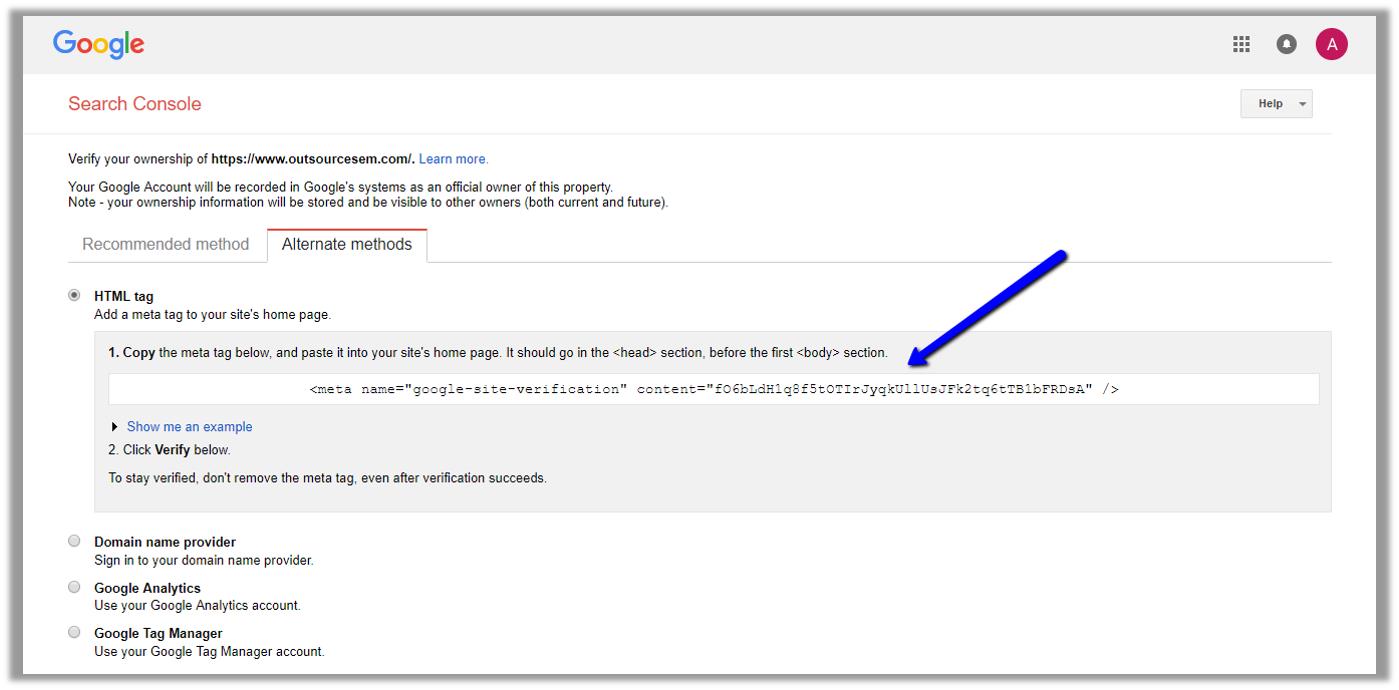 4. Log in to the dash board of your website. Open the HTML editor and paste the tag in your website's home page. It should be done in the head section.
5. Go back to Google Search Console and click 'verify'. Now your website will be connected to the Google Webmaster Tools.
Google Webmaster Tools has a lot of amazing features which you can explore. Some of these features are mentioned below:
• Search Analytics: This section of the tool contains insights related to your website. You can get to know about the search queries people are using to find your website. The organic search clicks your website is receiving are also displayed on this tool. By clicking on impressions, information about click through rate and position data can be known.
• Penalties: The webmaster tool tells you about the penalties which might have been imposed by Google. To access this, you need to click on 'search traffic' and then on 'manual action penalties'. Google always reviews the websites and penalizes if there is any violation of rules. A warning is also given by Google regarding this through email.
• Sitelinks: Sitelinks are automatically generated links which appear below your brand name in search results. This tool allows you to remove any sitelink which you don't want to appear. Click on 'Site Appearance' and then on 'Sitelinks'. You will see Sitelink URL's. Just remove which ever link you feel should not appear in the search result.
• Fetch as Google: This allows you to view the website as Google does. It tells you if there is any problem within the website. It also informs about the resources or files that are being blocked which can eventually cause hindrance to Google from fully understanding your website.
• Authorship Statistics: It gives you information about search statistics for every post you have authored. This helps a content writer put additional images and links into their work which also makes the content stand out in search result due to high CTR.
• Site Speed Metrics: This is a very important part of any website. Nobody wants to browse a website that takes a lot of time to load. Google algorithm gives emphasis on site speed . Google Webmaster Tool allows users to track Google bot download time. It makes testing site speed at page level easier.
• Crawl Rate: The crawl rate can be changed for sites at root or sub domain level but it is recommended not to change it and allow Google to choose the crawl rate.
• Site Maps and Robots.txt Transfer: XML Sitemaps helps the search engines understand the website better while crawling is done by robots. There is a section named site map where the sitemap to be crawled can be tested. Robots.txt is a text file that instructs search engine bots about what to crawl.
• Change of Address: If you decide to change your website URL, there is an option which will carry out the changes smoothly. The migration takes place without any traffic loss and ranking loss.
• Messages: This section will show you any message from Google. It is important to check this section as it will inform you about account changes, analytical changes and other changes. Through preference options you can set up these messages as email forwarders.
Benefits of Google Webmaster Tools:
• Spots Error Quickly: This tool can detect pages with errors and you can easily make necessary corrections on time. Google considers many factors while ranking the website and errors can deteriorate the ranking. Generally, an error free website gets ranked higher. If the website gets hacked, a notification arrives on this tool.
• Real Time Changes: The changes which you make to your website can now be done in real time by using this tool. Just submit your site using 'Submit to Index' after completing the changes. The impact of the changes will be immediately shown on your website.
• Checks Duplicate Content: Websites with duplicate content gets de-ranked by Google. This tool tells you about the links to content which Google is viewing. If the number of views are low then there is no problem but if it is high then there might be duplicate content on your website.
• Tracks Traffic Performance: The tool keeps a track of traffic growth and ranking metrics. It gives information about the number of impressions, click through rate and position of your website on the search engine. This data helps to measure the popularity of the website.
• Resolves Any HTML Error: This tool reports on any HTML error that will affect the indexing of your website. If you resolve this, the traffic will increase on your website.
• Resolves Any Server Error: This type of error is very harmful for the website. Google Webmaster Tool will notify you about the server error. It should be corrected immediately as the website might get badly affected by this.
• Structured Data: The HTML content is marked up with the help of this tool. This makes the content organized and displayed in a better manner on the SERP's.
• Data Highlighter: This tool tells Google about the data structure of your website to be used in searches. It will help you in highlighting any important data on your website. The important data can be brought in the forefront of the search result by using this tool.
• Accelerated Mobile Pages: The number of people using mobile devices to access the web has increased than before. This tool provides template code for web developers to write fast loading HTML and Java Script. The mobile pages become more efficient by this tool and it also eliminates any slow loading pages. The website becomes more mobile friendly.
• Rich Cards: These are structured data you can add to your site's html. It is immensely useful for media heavy website as it helps in making them visually appealing. Users generally get attracted towards those websites which have more images than texts.
Google Webmaster Tool has lots of features and all of them work really well but there are certain disadvantages attached to it. Some of them are mentioned below:
• Limited Time Limit for Search Data: The time limit for keeping search data is only for 90 days which creates a bit of inconvenience. Google should look on this matter and try to increase the days limit.
• URL's Can't Be Removed in Batch Mode: In this tool, the URL's can't be removed in batch mode. Due to this, Web developers face difficulties when they commit a mistake or the website gets hacked. There should have been a facility to upload a spreadsheet containing the list of URL's to be removed.
• Geographical Targeting Limited to Single Country: The website can only be targeted to a single country through this tool. Many web developers want their websites which are in English language to be targeted in different countries around the world but it's not possible. This approach of Google on geographical targeting can be termed as a bit old fashioned.
• Indexing doesn't work properly: Sometimes it has been seen that there is no information by the tool on contents which are not indexed. This creates confusion for the user. You can refer this amazing blog for more "Ultimate Guide to Crawling and Indexing"
• Complex Nature of Parameter Tools: The functions related to parameter tools are very difficult to understand. The complex nature of this tool leads to error sometimes or the user does not use this function at all. Google should try to make this a bit user-friendly in the upcoming updates.
Google Webmaster Tool got renamed as Google Search Console in May, 2015. There have been many new features added to it since then. Some of them have already been discussed. Few more have been added recently and are still in beta version. Those features have been mentioned below:
• Search Performance with data of 16 months: Users have been consistently demanding for more data in search analytics. In the new report, 16 months of data will be available and this will make analyzing longer term trends easier.
• Updated Index Coverage: It gives much detailed information about indexing of URL's on your website. It shows correctly indexed URL's, warning about any issue and reasons why some URL's are not being indexed by Google.
• Search Enhancements: This feature helps the user to implement search enhancements such as Job Postings and AMP. It gives details about any error that Google identifies.
Role of Google Webmaster Tools In Business Expansion:
When a business tries to establish itself online their main motive is growth and increase in sales. Google Webmaster Tools helps you track the search performance of your website. You can achieve high ranking on Google search by this tool which will give you an added advantage in making people find your business easily online. This tool will help you in attracting more visitors to your website which will eventually make your business more profitable. You can also determine the type of content good for your website by observing the click through rates on different pages shown on this tool. It will assist you in adhering to the guidelines made by Google for websites. By following the Google guidelines, your website will become more popular in Google search results. The world of Google Webmaster Tools is ever expanding and it will surely help you in making your business grow faster in the online arena.
Final Words
Google Webmaster Tools is the most useful resource for people in different areas of work – Marketing Professionals, SEO Experts, Business Owners, Web Masters and App Developers. The functions available on this tool are easy to use and very effective as well. Google is making sure that it updates the tool on time to time basis by taking valuable feedback from the users. We know Google is one of the most used search engine around the world and this tool provides an advantage compared to others because it helps you in getting better rankings on Google search result. You can also connect Google analytics with this tool and get all the data of various reports. It can be said that this tool has now become a necessity for those who are owning a website.
So, If you haven't used this tool yet, just go for it now. It is free to use as well. Your website will get managed easily and you won't have to worry about the technical problems that might be encountered by your website.
#Ref
- Google Webmaster Tools Support.
- Google Webmaster Tools An Overview.