If you want to create a SEO friendly website, then here is an awesome article that can help you a lot to build an SEO friendly website. Search engine optimization is a technique which is used to improve your website's visibility. It is important to make your website SEO friendly because it gives good user experience and therefore increases your online presence on SERP.
Many people have wrong understanding about SEO being free but SEO traffic isn't free. The traffic can be achieved by creating a professional looking or well-designed website. It can help in increasing the customer base. You need to consider the importance of search engine optimization to drive high-quality traffic to your website. Although, there are number of SEO benefits that every SEO agency must understand before developing a website. So, let's discuss some of the major points you must keep in your mind while developing a website.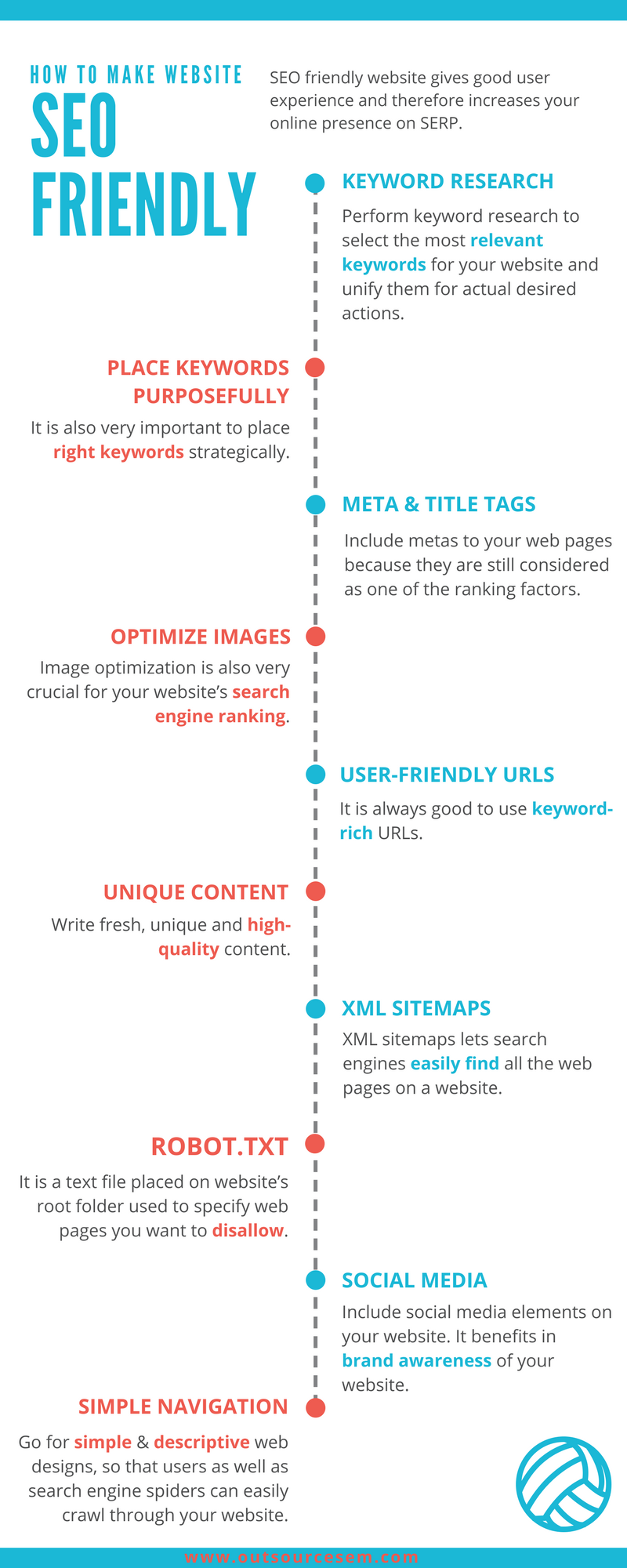 1 Keyword Research: Initially and most importantly you should perform keyword research to select the most relevant keywords for your website and unify them for actual desired actions. It is directly associated to your campaign performance because relevant keyword helps you to bring traffic and sales for your website and makes your website rank above your competitor's website. You may read one of our ultimate blog on "A Guide to Keyword Research" that will give you insights into value of right keywords.
2 Place Keywords Purposefully: Your work does not ends with selecting the right keyword but it is also very important to place those keywords strategically such as – • Using the keywords in URL is ideal but make sure you separate multiple keywords with a dash/hyphen. • Important keywords can also be used in anchor text to describe links or domain name. It is said that using keyword-rich anchor text are good for a website. Place the keywords together as much as possible but remember it looks natural and make sense to others. • Include the keywords to the portion where it is focused more like bold headlines. Also ensure the keywords are used in appropriate density. You can use the keywords anywhere you want including the title tag, H1 tags, website sayings, meta descriptions, meta keywords, navigation, H2 tags, bullet points, title attribute on links, H3 tags, breadcrumb trails, footer links, URL's, file paths, internal links and folder names.
3 Meta and Title Tags: Don't forget to include meta keywords, meta titles and meta description to your web pages because they are still considered as one of the ranking factors. Meta title describes the overall content whereas meta keywords is useful to tell important keywords to search engine spider. Also, provide your web pages a proper meta description so that visitors could get a brief information about the web page. You can read this blog "Learn How to Create Meta Tags for Your Website".
4 Optimize Images Too: Images are most important part for a website but lots of people neglect image optimization and only concentrate on text optimization. Image optimization is also very crucial for your website's search engine ranking. Some of the tricks to optimize images are mentioned below – • Give a proper name to the images • Use Alt tags, it has numbers of SEO benefits • Reduce image size because large size image makes your site load slowly • Use right format, JPEG and PNG are commonly used format on web • Do not use duplicate image, Google may penalize you
5 Make sure you have User-friendly URLs: It is always good to use keyword-rich URLs. Provide simple and unique URLs for each page, so both user and search engine crawler can easily identify the content you are providing in website. You can follow these tips and tricks to make your website URLs user-friendly – • Don't use capital letter/upper case alphabets • Use hyphens/dashes to separate words in URLs • Use Redirect 301 for broken URLs or updated page URLs • Make it compatible for all devices • Include your target keyword • Canonicalize your URLs • Block unsafe URLs with robots.txt • Properly organize your URLs content
6 Unique & Updated Content: Write fresh contents including latest information based on the visuals and texts to make your content more appealing. Also make sure your content is unique, high-quality and not copied from anywhere because search spiders can easily find if it has been copied. If you are providing some facts you must mention the source from where it has been taken. Because search engines can penalise your rankings for duplicate content. Also use internal linking to keep your visitors more engaged with your article. When you do internal linking for your high ranking pages, it passes link juice to the linked page which not only improve your page authority but also your rankings.
7 Create XML Sitemaps: XML sitemaps are very crucial for search engines which lets them easily find all the web pages on a website. It is also helpful for search engines while choosing canonical URLs. XML sitemap helps search engine understand website's structure while crawling them and therefore it is suggested to include only those webpages which you want to be displayed on search engines. Thinking about its effect on website's ranking? Then you must know that creating XML sitemap can help you improve your SEO. You can use XML Sitemap Generator for sitemap generation. Once you have generated your sitemap, upload it to the root folder of your site e.g. www.mysite.com/sitemap.xml.
8 Use Robot.txt: Robot.txt is a text file that is used if you don't want to crawl certain web pages. It is placed on website's root folder. Below is the code and there meaning that is used in robot.txt file – User-agent: * Disallow: / Here "forward slash" in the code stop a website from showing in the search engines. Whereas exclusion of this "forward slash" grants search engines access to the entire website. You can also specify certain files or pages that you want to disallow.
9 Don't neglect Social Media: Social media has a great impact on search engine ranking, not directly but it benefits in brand awareness of your website. Include social media elements on your website. So that visitors could like or share the content if they find it worthy.
10 Create your Page Structure & Navigation Simple: A good website should be well-organized and easy to use. Go for simple and descriptive web designs, so that users as well as search engine spiders can easily crawl through your website. It is recommended to place navigation on the top of the website because visitors focus on the top and the bottom of a website.
Final words
SEO friendly websites gets high traffic and high ranking on SERP. Following these SEO strategies will greatly help you achieve your online marketing goal and eliminate all weak point of your website. Hence, try to be search engine friendly and enjoy SEO new techniques to reach your potential customers.
Learn more on how to make a website SEO friendly:
1 An Awesome Guide to Exit Intent Pop-ups
2 Which is Better for SEO – Http or Https