Advertising is very important factor to your business strategy. Nowadays advertisement has a treasure trove of benefits to help you grow your business. Is your online presence weak or non-existent? Get better results with Google Ads.
Google Ads campaign creation is from where you can start advertising. Our Google Ads expert team will love to help you choose the right campaign type and reach your online advertising goal. In this article I'll be sharing few ideas to choose the right campaign type.
What is an Ads campaign?
An Ads campaign is a set of ad groups which includes ads, landing pages & keywords to attract the right customers. This is done on the basis of queries that a user can type in Google's search engine. Also you can use various targeting options to make your ads more relevant to your customers.
Google Ads Campaign Types
Google Ads has few campaign types which you need to understand before creating your campaign. Each has its own characteristics and adds different value to your business.
Below are the campaign types:
• Search Network with Display Select
• Search Network Only • Display Network Only • Shopping • Video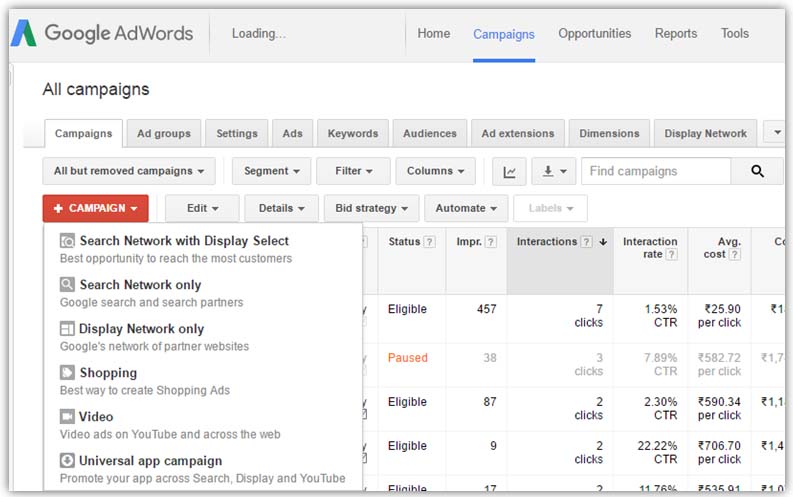 With the right approach, Google Ads can be a lead generation tool for your online business. Choosing the right Google ad campaign type can play a very important role to achieve your business goal.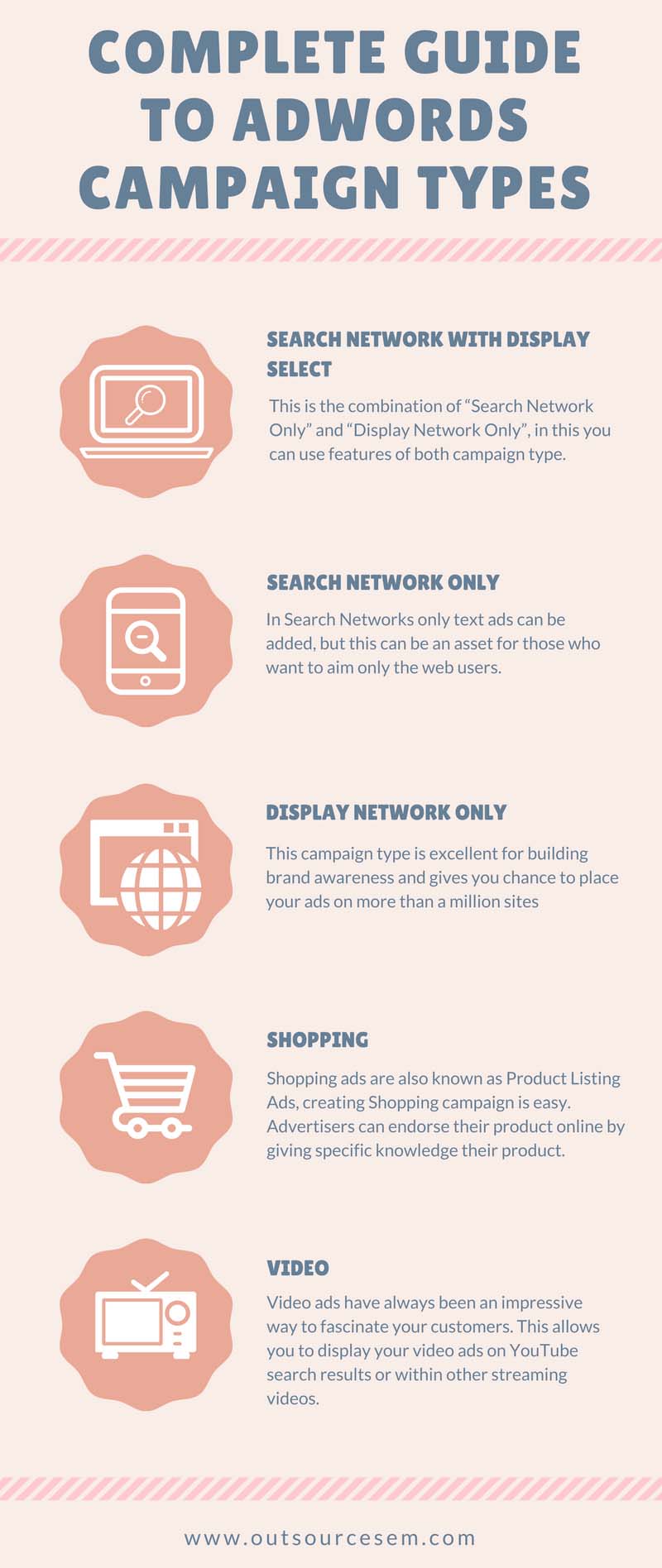 Let's get into details:
1) Search Network with Display Select
Google launched its latest hybrid campaign type, Search Network with Display Select (SNDS) in 2013. This is the combination of "Search Network Only" and "Display Network Only", in this you can use features of both campaign type.
With SNDS your ads will be shown to the visitors on Google search as well as search partner sites, your ads may also reach visitors across the web on Google Display Network. According to initial tests, advertisers working with Search Network Only campaign and switching to Search Network with Display Select, may get high quality traffic, and experience an average 10%-15% rise in conversions.Here is a table according to Google which describes the difference between the old and new one.
2) Search Network Only
Search Network is one of the most common and familiar way of PPC advertising. In Search Networks only text ads can be added, but this can be an asset for those who want to aim only the web users. Your ads will be shown to the users who are actively searching for related content, products or services.
This advertising form is especially useful because it targets the active users, who are actually searching for something they want. Your ads are shown on the basis of keywords that you add. Here is an example in which the user is searching to buy flowers (Paid ads are highlighted in the red box).
When should you run Search Network campaign?
• Limited Budget: If you are bounded with a small budget, you can start with search network. This advertising format drives direct conversion.
• Emergency Services or Products: You can also opt this advertising format, in case you are selling a product or offering a service which user searches in an emergency (like plumbers, electricians, etc.)
Search Network also involves organic search placement, Google Maps, Shopping, and Google partners like AOL.
3) Display Network Only
Display Network is less popular with respect to Search Network because it's not an easy job to attract user's attention and make them excited enough to go through your website, quitting all the other stuffs. This campaign type is excellent for building brand awareness. It aims at web users who are browsing their favourite website, checking mails etc... Growing your brand discernibility may also obtain more clicks on organic listings. Google Display Network gives you chance to place your ads on more than a million sites, including digital properties like Gmail, YouTube, and Blogger.
When should you run Display Network campaign?
• To make your brand popular: Display Network has advantage to promote your brand, also clicks on Display Network are less expensive then clicks on Search Network. You can display your ads on popular sites that are well-known by your target audience, which makes them familiar with your brand.
• For tedious sales system: when the customers are not likely to buy your product or service at that time, you should make sure that your brand remains at top of their mind. You can also use remarketing, over the GDN. It is an advertising strategy that lets you show your ads to users who has already visited your site in the past.
• For exciting products: GDN is an excellent option for the advertisers who sell exciting products or services. Create fascinating ads that attract visitors. Here is an example for you.
4) Shopping
Shopping ads are also known as Product Listing Ads, creating Shopping campaign is easy. Advertisers can endorse their product online by giving specific knowledge (their product image, price, merchant name etc.) about what they are offering before customer clicks on their ad. Google Shopping ads look something like this:
In late 2014, Google introduced a new campaign type for the traditional PLA's called Google Shopping Campaigns which is much easier to manage than the old format. The main benefits of the New Google Shopping campaign are:
• Much easier to setup a new campaign • Access to competitive metrics • More advanced reporting capabilities • More product focused • Bidding for specific products has become simpler
5) Video
Video ads have always been an impressive way to fascinate your customers. This allows you to display your video ads on YouTube search results or within other streaming videos. YouTube attracts great traffic which means it has a huge advertising potential.
With Google TrueView ads, you are only charged when user watches your ad for 30 seconds or more. There are three video ad formats:• TrueView in-stream ads • TrueView discovery ads • Bumper ads
Conclusion
Building successful Google Ads campaign depends on right campaign setting. Hope this blog helps you understand Google Ads campaign type and choose a suitable type for your advertisement.