Google Ads Campaign settings builds the base of your campaign. Without a strong base, you may fail to stand for a long time even with best keywords, ad copy, and landing pages. Hence, planning and rightly setting up the Google Ads campaign is very important for a PPC Company.
Campaign settings help you to take administrative decisions for your Google Ads account and achieve PPC marketing goals. You must understand account settings properly for maximum outcome. Remember, if you are making changes at campaign level, it will apply to all ad groups within the campaign.
This article will help you understand Google Ads campaign settings and get all the advantages through which you can reach your business goals. Now, let's start by discovering your campaign settings.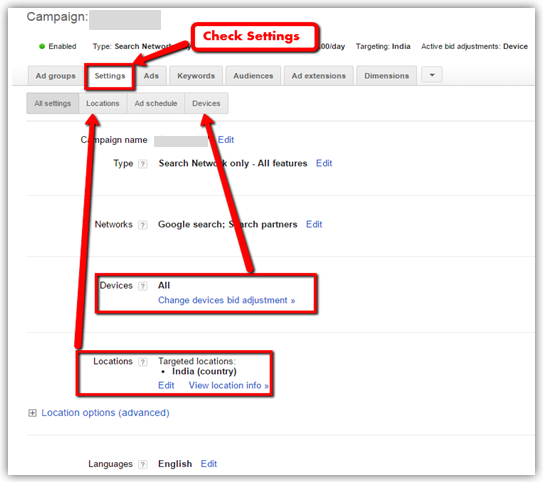 First off all login to your Google Ads account and click on "Campaign" tab. Select a campaign and click on the name. Now go to the settings and from there you can manage your advertising campaign. You'll see these set of tabs, which I have shown for you as an example in the above image.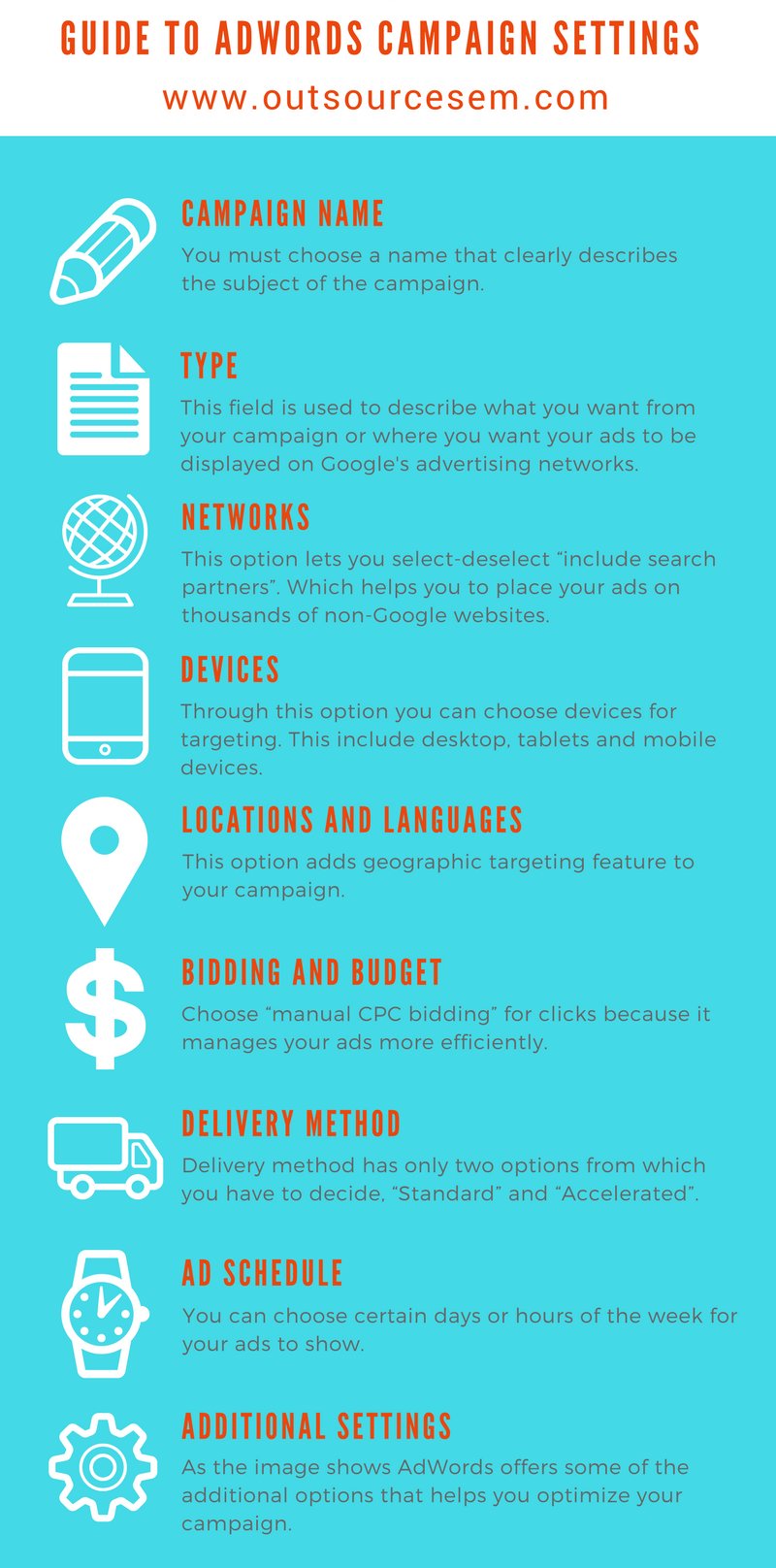 • Campaign Name: As the term suggests, it is the name of your campaign. You must choose a name that clearly describes the subject of the campaign. So that you can easily identify it in your account. It will only be visible to you and not to the customers.
• Type: This field is used to describe what you want from your campaign or where you want your ads to be displayed on Google's advertising networks, and their format, like text or video. There are five different Google Ads campaign type from which you can choose one according to your business goals. Google Ads offers a wide range of options to make your ads more specific to your target audience.
• Networks: This option lets you select-deselect "include search partners". Which helps you to place your ads on thousands of non-Google websites (partner with Google to show their ads), YouTube and other Google sites to reach your target audience.
• Devices: Through this option you can choose devices for targeting. This include desktop, tablets and mobile devices. You can also increase and decrease bids for different devices.
• Locations and Languages: This option adds geographic targeting feature to your campaign. Which means your ads will only be shown to targeted location or to customers who have selected your targeted language as their browser's language setting. You can target either a country/territory, region/city, or a custom location. The more specific you are in your geographical selection, the more targeted your ads will be – and in some cases cost less per click. You can also set up your campaign in any language you want but English is a universal language. So, I would recommend to use English in your ads. Use "+Locations" button to add new locations, after adding your desired locations you can adjust the bids for various locations in the same campaign and you don't have to create different campaign for different locations.
• Bidding and Budget: Choose "manual CPC bidding" for clicks because it manages your ads more efficiently. You can adjust different bids for particular ad group or keyword. The maximum cost charged for a click is known as max. CPC. Usually actual CPC is less than max. CPC because with Google Ads you'll only pay the minimum which is needed to hold your ad position. The daily budget is specified by you, which is the maximum amount you'll spend for your campaign. It totally depends on you and can be adjusted whenever you want it to be changed.
• Delivery method: Don't get afraid of "advanced" tag. Delivery method has only two options from which you have to decide, "Standard" and "Accelerated". This determines how long your budget lasts. "Standard"- This will take your daily budget and pace it to last throughout the day. "Accelerated"- Your ads will only be displayed until your daily budget is not exhausted, once your budget drains then you're done until a new day starts.
• Ad Schedule: You can choose certain days or hours of the week for your ads to show. You can take advantage of this feature to capitalize your money by knowing your industry's trends.
Let's say…You have a restaurant which provides home delivery service only on weekdays i.e. Monday to Friday from 10:00 am to 8:00 pm. You can always use ad scheduling so that your ads are visible during these days and not on the weekends.
• Additional settings: As the image shows Google Ads offers some of the additional options that helps you optimize your campaign. You can set your campaign start and end date, ad delivery option etc.
Conclusion
Google Ads account settings extremely influence your results. Hence, you need to audit your campaign settings regularly, to monitor all the changes which is required to improve your campaign in every way it is possible. Make deliberate decisions so that they could accomplish specific purposes. Enjoy PPC ☺