White label can be defined as "when a product or service is manufactured and produced by one company but it is rebranded by another company. The brand of the original company remains intact on the product or service". In PPC, when any type of work is outsourced there are agencies which provide white label services. The work is done by the agency providing white label service but the client is retained by you.
The white label services are used by agencies because it provides customized branding and the work also gets completed in a limited time frame. Today there is an increase in business through online advertising and generally companies situated in different parts of the globe are always in search for white label service providers. Several agencies are providing it at a fractional cost.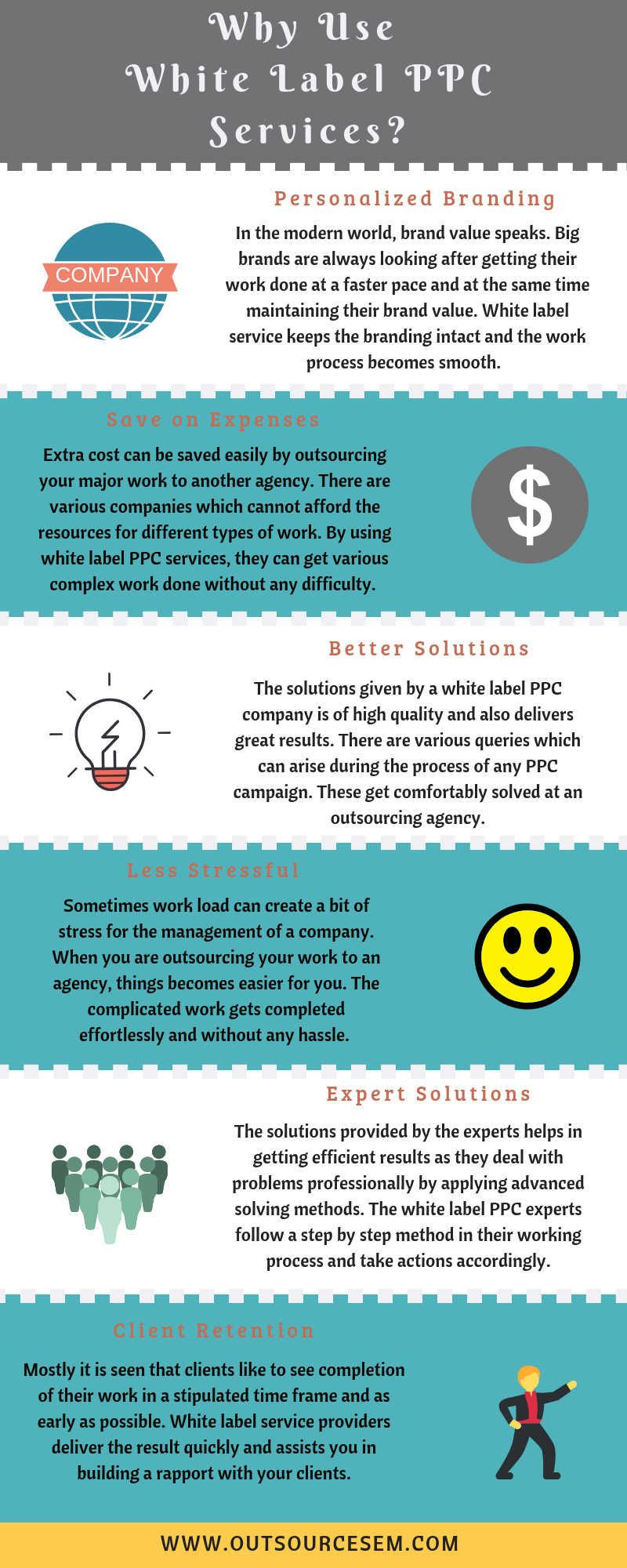 Why do agencies use White Label PPC?
There are various reasons behind advertising agencies using white label services. Some of them are mentioned below:
1. Personalized Branding: In the modern world, brand value speaks. Big brands are always looking after getting their work done at a faster pace and at the same time maintaining their brand value. White label service keeps the branding intact and the work process becomes extremely smooth.
2. Save on Expenses: Extra cost of work can be saved easily by outsourcing your major work to another agency. Recruitment costs saved can be utilized for other major investments. There are various companies which cannot afford the resources for different types of work. By using white label PPC services, they can get various complex work done without any difficulty and it can get completed under low campaign budget.
3. Better Solutions: The solutions given by a white label PPC company is of high quality and also delivers great results. There are various queries which can arise during the process of any PPC campaign. These get comfortably solved at an outsourcing agency. Any company which requires expert remedies with respect to ad campaigns can choose a white label PPC service without any hesitation.
4. Less Stressful: Sometimes work load can create a bit of stress for the management of a company. When you are outsourcing your work to an agency, things becomes easier for you. The complicated work gets completed effortlessly and without any hassle. The results delivered are well updated and properly organized which gives you a free hand on taking correct decisions for your company.
5. Expert Solution: The solutions provided by the experts helps in getting efficient results as they deal with any minor or major problems professionally by applying advanced solving methods. The white label PPC experts follow a step by step method in their working process and take actions accordingly.
6. Client Retention: Mostly it is seen that clients like to see completion of their work in a stipulated time frame and as early as possible. White label service providers deliver the result quickly and assists you in building a rapport with your clients which eventually helps you in maintaining a long lasting relationship.
What are the challenges faced when working with a white label PPC reseller?
There are certain challenges which can occur. Some of them are as follows:
1. Accounts Access: There are certain problems which arise while operating an account related to Google Ads. If there are two e-mail accounts being used to access an Google Ads account then there might be problems. Generally it can be solved by using a common login for both company and the PPC agency.
2. Different Reports: There are different types of PPC reports which are to be created. Here it is very crucial to make sure that both company and agency are agreeing to a single format. Actually sometimes the preference of client can be different which can lead to confusion and delay of work. Also, the frequency at which the report should be delivered needs to be decided in advance and much before starting of any project.
3. Intermediary play: The intermediary part which the agency plays between the client and ad campaign being run can be a tough task. Clients always have questions related to PPC campaigns. Any delay in answering those can create problems. To solve this, answers should always be prepared with respect to the work done and kept ready in case the clients asks for it.
How can you choose a good white label service provider?
There are certain parameters which should be checked while choosing a White Label PPC service. Some of them are mentioned below:
1. Experience: The track record of partner agency should be impressive in providing high quality services to the previous partners and keeping the information secure. Well, experience always helps in any type of work but in this case it is essential as the risk of sharing crucial data gets involved. Experience brings in vast knowledge and it also helps to form strategies for field of online advertising which is challenging. So, a proper command over every section of digital marketing will bring in more success.
2. Communication: Clear and constant communication is extremely important in case of business related work. It develops a long lasting relationship and builds trust. By doing regular communication, the work can be completed within scheduled time and information gets shared properly. Answering queries can become much easier if the channel of communication is well organized in an agency. Before choosing the agency you can check on how much time does it take while responding to a query and providing any relevant detail.
3. Trust: The very essential part of any business is trust, it takes a bit of time in building up but has a great impact overall. Whenever a partnership happens, trust plays a key role. It can make the work easier and increase the pace of it. The client will be rest assured while transferring any work or data that it is now in safe hands. If by chance there is any trust issue, several problems will start coming around. Lack of trust can be a big dent for any company. Before choosing the white label PPC service provider, it is a must to check references and also any feedback which is available on other websites. The details of the agency should be checked online before choosing it. Trust related doubts must be cleared before sharing any sort of information. There are many sites which can be a bit inconclusive when you see their website. Contacting them through email or phone will surely clear any type of confusion arising in your mind.
4. Transparency: There needs to be transparency in any type of work and specially while partnering with any agency. In the process of interaction, at times doubts occur in client's mind. If there is anything which is being hidden or not disclosed it will create a major hindrance in the work procedure. Mostly it is seen that the company which is having good reputation are very transparent. The information provided by the partnering agency on the website can give you good clue on their expertise and standard of work. Before going for any white label service provider, just check their references and ask them through email about the process through which they are conducting their work.
5. Evolution: The digital marketing world is constantly changing and evolving with time. So, it is necessary that the partnering agency should be having a good knowledge on the latest updates and trends related to it. A reputed agency will always train their employees on time to time basis for gaining knowledge on the topics related to their field. Blogs are available on the website of any agency who are outsourcing work. The posts written there will help you sufficiently in knowing about the knowledge of that agency.
6. Support Team: The support provided by the agency should be instant and without any hiccups. Good agencies generally have a proper support team who are answering to every query instantly. PPC campaigns have reports and the agencies must answer any query coming from the company or the client. A hardworking support team is generally visible on the website. If it is missing, then it can be clarified by communicating with the agency directly.
How does an advertising agency providing white label PPC services work?
There is a pattern of work which is followed by the agency. Some of the steps are given below:
Step 1: The digital agency service provider can be said to be as Company A which actually sells the digital service to the Company B to resell.
Step 2: The rebranding is done by Company B with its own logo and is sold to the Company C which is the end consumer.
Step 3: The Company A here is completing the services related to digital marketing of Company C purchased from Company B under Company B's brand.
White Label PPC services for start-ups:
White Label PPC services are helpful for start-ups in many ways. In the starting phase, there are all sorts of limitation in money and resources. It can be tough sometimes to manage all these things. Many start-ups now approach white label PPC services and outsource their work at a very reasonable price. When a business starts, you cannot be jack of all trades. It takes time before experts of every field are working in an organization. Using the services which are white labelled, will improve the work efficiency of your company and cost can be easily saved. Start-ups are also in need of advertising which reaches the vast audience. The campaigns managed by PPC experts will help in reaching the targeted audience. The work management of a white label service provider is much better because they have a dedicated person for doing easy as well as complex works.
White Label PPC services for companies with time restriction:
There are companies which need to complete their work in a limited time frame and deliver it to the clients as soon as possible. The expertise available through white label PPC service providers helps in delivering good results in quick time. Meeting deadlines is generally the motto of any company. By outsourcing, the work gets done easily in a limited time frame. The experts are skilled and always keep the time period in mind. Mostly it is seen that they mention time frame of completing any work before the start of project. It is a common saying that 'Time is Money' and by choosing a white label service provider you not only save time but also your precious money. By delivering the project to your client before time will surely get you those precious brownie points and the future scope of getting more work with that client can be bright.
Conclusion:
The digital marketing world is expanding with every passing day. Online advertising has become a necessity for increasing the growth of any business. White Label PPC service provider are now getting extremely popular because they manage the work well and with extreme caution. Overhead cost becomes less for the company outsourcing the work to an agency. They don't need to hire specialist for every field of work rather they can easily transfer their work to an agency. Partnering with White Label service provider keeps the branding of the company intact and the crucial information shared remains secure. Client retention can be done with utmost ease.
A happy client always needs the projects delivered on time, queries related to work should be answered quickly and updates on campaigns should be given on time to time basis. All these things can be achieved by reputed hard working white label service providers for PPC. Advertising agencies are regularly outsourcing their work and have been successful. There are many big brands which are being managed through these white label PPC service providers. There should never be any hesitation in going for outsourcing your work but make sure the path is correct. Think wisely, choose wisely and get success in the field of online advertising.