Outsourcing PPC is a method in which the work is given to a white label service provider. They manage the PPC campaign of the company. The results provided by agencies are much better and impactful compared to in-house management of work. PPC campaigns can be a bit complex to manage and it requires professional experts to handle the different aspects of campaign setup.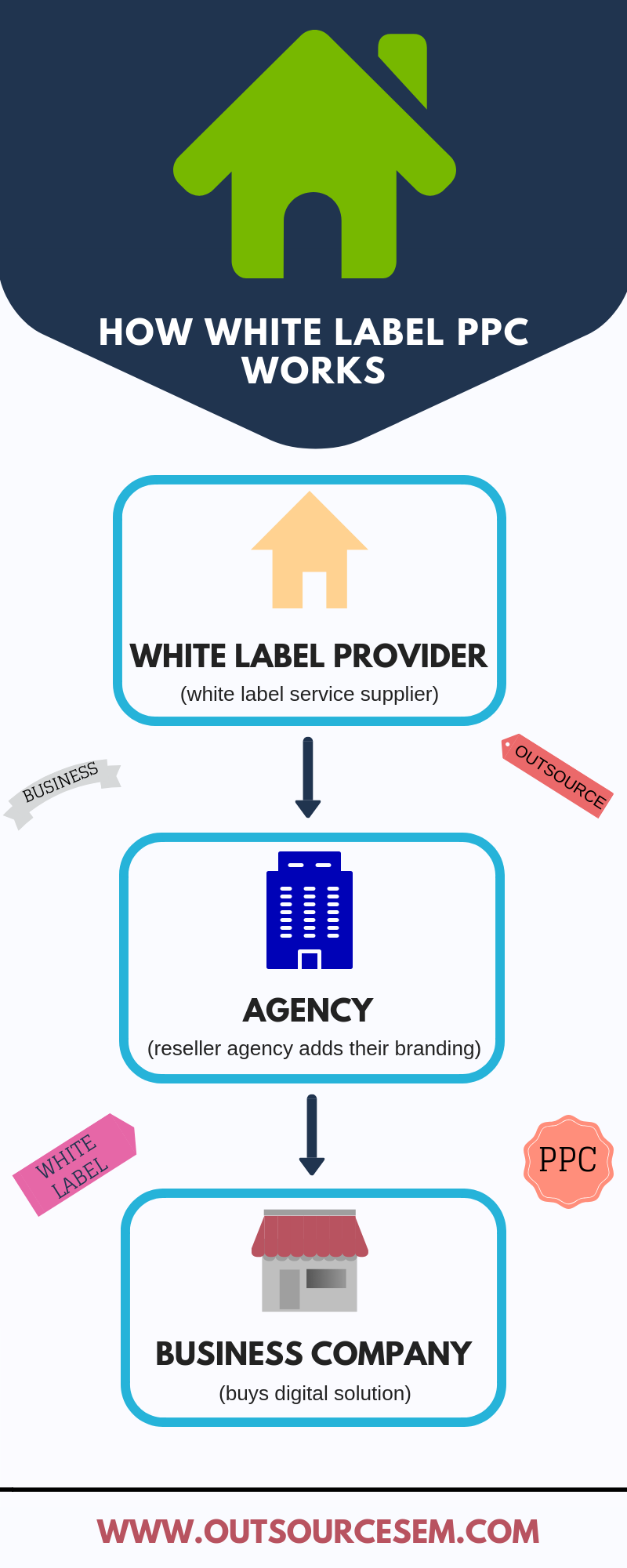 There are several benefits of outsourcing PPC to White Label Service Providers. Some of the important benefits are mentioned below:
1. Dedicated Team: A team is there in an outsourcing agency which works round the clock to monitor the campaigns. The management done by them is much better compared to others. The reason for them performing well is because they have expertise in doing the work related to PPC campaigns.
2. Customized Cost: The cost will get saved if you outsource your PPC work. The resources available in an outsourcing agency is much better compared to in-house recruitment. The agencies also offer a package according to the budget and your requirements.
3. Expert Talent: The talent working in an outsourcing agency are certified and having much more experience in tackling any complex situation of PPC campaign. The training imparted to PPC experts are always of good quality and they bring out better results from every campaign.
4. Enhances Reputation: You can create better reputation of your work and your company will get better recognition. In this competitive world, reputation is something which keeps your company in a different league. Outsourcing your work will bring in quality solutions for the ad campaigns. Your performance of ads will get better with instant results.
5. Expand Services: You can easily stretch the types of services which are being currently offered by your company. This will help you in attracting more clients. If the services offered are of different kinds it will bring wide variety of work.
6. Increase of Revenue: When the work gets completed at a rapid pace, customer loyalty is maintained and the brand value gets increased. All these factors play a key role in revenue generation. It is often seen that revenue generation helps in getting better resources for your company.
7. Utilization of Resources: The work load decreases if PPC work is outsourced and it can eventually make resources get utilized in a better way. Resources are available in every organization which sometimes get jumbled up and work doesn't get properly completed but these things don't happen in an outsourcing agency.
8. Enhanced Production: PPC advertising is dynamic in nature and it is now almost a necessity to have a PPC team which is having all the latest knowledge related to digital marketing. The team will work in smart way and better the productivity by applying the latest method in an efficient manner.
9. Accurate and Reliable: The accuracy of work gets better and chances of major error creeping in gets less. PPC experts have tremendous experience of tackling any campaign with utmost ease and they make sure by cross checking every work they do. The constant training which they go through makes them better in coping any situation.
10. Advanced Bid Management: The bidding part of PPC management is quite lengthy and is a bit complicated. There are thousands of keywords for which the bidding is done and lots of work has to be done quickly. PPC professionals manage these tasks easily and give good results.
11. Scale your Business: The world has become highly competitive and being ahead of your competitors is extremely important. PPC experts are skilled in every manner and they make sure that every step taken is helping your business grow bigger and better. It is very difficult to climb the top of the ladder in your industry but the white label services can help you get there.
12. Brand value improves: Branding helps business in making the customers loyal to their brand. The challenge here is maintaining brand value which the PPC experts do it quite easily. They not only maintain your brand value but also get efficient results.
13. Ease burden on employees: The employees in your organization will save their time and can utilize it in some other crucial works. All the work related to PPC campaigns will be taken care by the white label service provider. The work quality will also get better as employees will have less work load and projects can get completed on time.
14. Get quick results: The PPC experts in a white label service work on a project within a given time frame. The results provided by the experts are much quicker and time can get easily saved. By getting quicker results, the company can enhance its quality of work.
15. Secure work: Outsourcing a work to a third party might be risky but in the case of white label they keep the information secure. They make sure that they don't mix up the information. The working pattern of white label providers is as such that they have professionals who manage their clients separately. The various information related to campaign and budget is not shared with anyone.
Conclusion:
Outsourcing work related to PPC has several advantages and benefits. Well as we all know that maintaining brand value is very important in today's world. You can get your work done at a low cost but the quality might not be good. Here in case of white label service provider, they not only help you in saving money but also do work of high quality standard.
The output of work is very important whenever the work is outsourced to a third party. The generated output in the case of white label service provider is always up to the mark. All the work related to PPC is done properly and separately. The important part is choosing a good white label service provider. Everyone provides good service but what differentiates the best from the better is the time and quality of work provided by them.