If you are running a PPC campaign, then here are some amazing PPC tools that will surely help you manage your PPC marketing campaigns better and get more out of them. Using these PPC tools will not only save your time but it will also offer important insights, motivate you and eventually make more money for your business or your client's business.
PPC tools provide a simple interface that needs not much experience or knowledge, to find and eliminate issues from your campaign. You can easily manage several components of PPC campaign including keyword research, competitive analysis, report analysis and structure. However, before choosing specific tool, it is crucial to understand your expectation from that tool also you must know how it is used so that you could easily do the required effective changes to your campaign. There are several tools in the market but I've mentioned only 10 PPC tools that are most effective and widely used.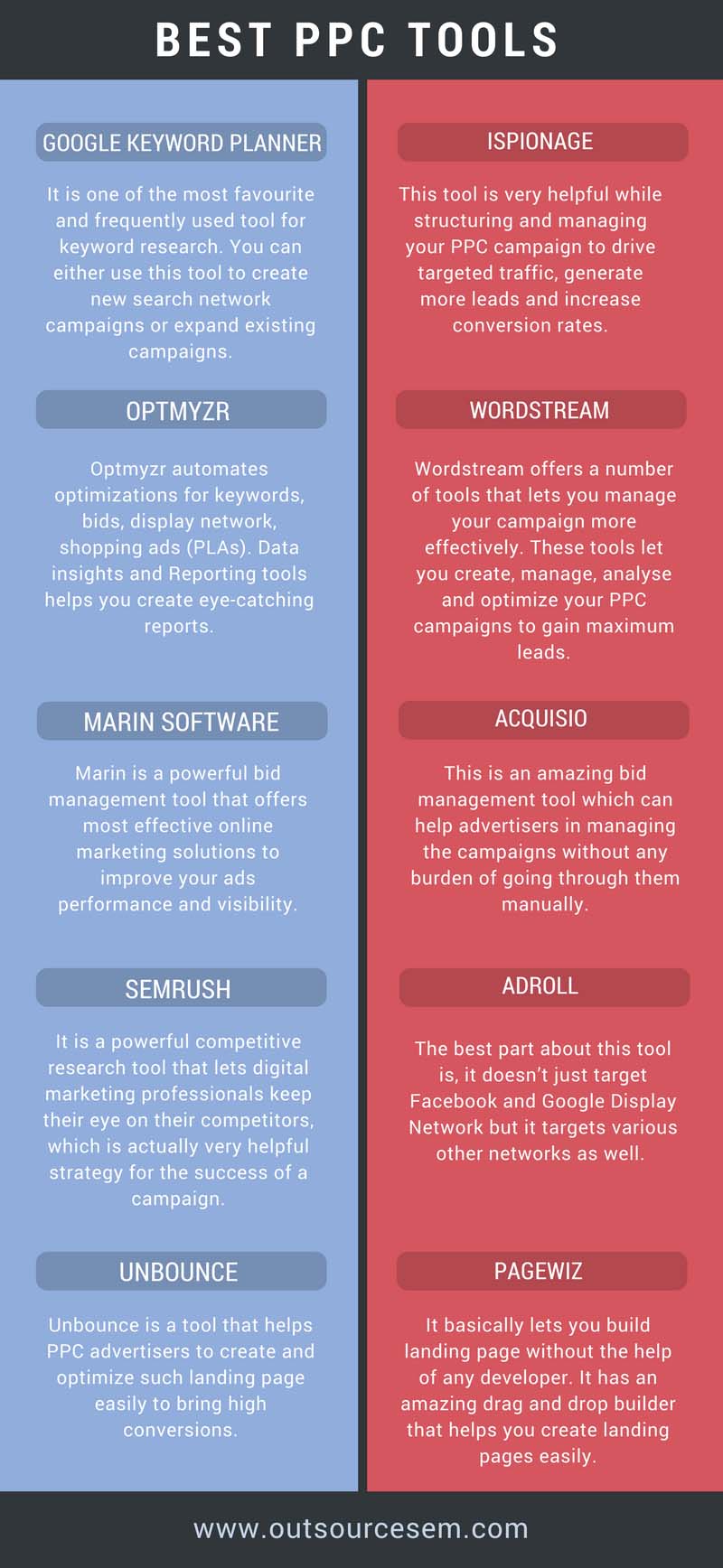 Google Keyword Planner – It is one of the most favourite and frequently used tool for keyword research. You can either use this tool to create new Search Network Campaigns or expand existing Campaigns. Simply enter a URL/product or service and Google will suggest you what keywords Google thinks the page should be advertising for including historical statistics, keywords trend, competitions, bidding etc.
For example – Let's say you are running a business of selling flower all over the country. Google Keyword Planner will help you discover the terms, phrases, and words potential customers are searching for associated to your business which you have not even thought of. You may be bidding against the phrase "flower delivery" and "online flower", but this tool will discover more related and frequently-searched terms for your campaign such as "order flowers", "birthday flowers", "flower bouquet" etc.
Optmyzr – You can manage your Google Ads and Bing Ads campaigns more effectively with Optmyzr. It offers various tools which includes Data Insights, One-Click Optimizations, Advanced Reporting, and Enhanced Scripts. Optmyzr automates optimizations for keywords, bids, display network, shopping ads (PLAs). Data insights and Reporting tools helps you create eye-catching reports. It also offers A/B Ad Testing Tool that lets you find the best performing ads and ad text elements to drive more qualified and better traffic to your landing pages.
Marin Software – Marin is a powerful bid management tool that offers most effective online marketing solutions to improve your ads performance and visibility. If you are managing several PPC campaign then this tool can be helpful in successfully managing the campaigns without spending much time. It is designed for both social media and search engines advertisers.
SEMrush – It is one of the most powerful competitive research tool that lets digital marketing professionals keep their eye on their competitors, which is actually very helpful strategy for the success of a campaign. You can find out who your competitors are in the search marketing based on the keywords you are considering to target audience, moreover you can analyse keywords and ads of your competitors that will help you a lot to improve your business. With this tool you can easily analyse tons of keyword research, which covers both paid and organic search results including keyword search volume, CPC, competition etc. SEMrush is easy to use and examine, just enter the domain, keyword or industry you want to search for.
Unbounce – Landing page is designed with the techniques that could strongly influence driven visitors to take action. It is important to create your landing page more attractive and appealing for more conversions which could either be a lead, a sign-up, a purchase or any other call to action. Unbounce is a tool that helps PPC advertisers to create and optimize such landing page easily to bring high conversions.
iSpionage – This tool is very helpful while structuring and managing your PPC campaign to drive targeted traffic, generate more leads and increase conversion rates. You can easily get insights on competitor's keywords, ads, landing pages and monthly spend that will give you new ideas for your campaign to make them perform better and enhance your ROI. This tool reports you whenever your competitors update or make changes to their campaign.
Wordstream – Wordstream offers a number of tools that lets you manage your campaign more effectively. These tools let you create, manage, analyse and optimize your PPC campaigns to gain maximum leads. Also they send customized reports and warnings that keeps you updated on your campaign performance. They are easy-to-use and helps you take fast and smart decisions for your campaign. There are several free tools available including Google Ads Performance Grader, Google Ads Landing Page Grader Tool, Free Google Ads Benchmarking Tools etc.
Acquisio – This is an amazing bid management tool which can help advertisers in managing the campaigns without any burden of going through them manually. Its cross channel dashboard allows advertisers to manage several platforms in single platform. Apart from this, it also lets you to do keyword research across number of online platforms.
AdRoll – AdRoll is a well-known retargeting tool that helps you do remarketing on web, Facebook, mobile and twitter. The best part about this tool is, it doesn't just target Facebook and Google Display Network but it targets various other networks as well. It also makes retargeting quite simple by its analytics reports for easy to understand.
Pagewiz – In ppc, advertisers usually test their landing pages to check which page performs best and get more conversions for this. This tool helps you in doing the same for you. It basically lets you build landing page without the help of any developer. It has an amazing drag and drop builder that helps you create landing pages easily. Once you are done with creating landing pages, this tool will test which version performs the best for you. The starting price of the tool is $29/month with 30-day free trial.
Final words
To create a successful PPC campaign you must keep your eye on competitor's activity to implement those strategies on your campaign to attain top position on SERP. In this article, I have mentioned number of tools but then it depends upon you which one to choose. Remember, better results require correct implementation and therefore it is important have complete knowledge of the tool before you choose any of them.